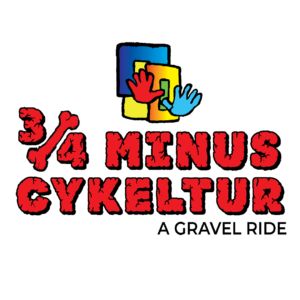 Electronic chip timing will be used for the Three-Quarter Minus Cykeltur and results will be available online shortly after the end of the ride.
The ride will begin as a neutral start at a controlled speed with a Police escort for the first 3 miles of the route, after which riders are free to ride at their desired pace.
All riders are required to wear helmets and follow State of Idaho traffic laws for bicycles, including yielding at stop signs and treating red lights as stop signs. Extra caution shall be taken at railroad and highway crossings.
Participants may ride any style of bicycle; however, motorized bicycles, including eBikes, are not allowed. A large percentage of the route is on gravel or dirt roads; bicycles with traction tires are recommended.
The route will be marked with directional arrows, as needed, at road changes and intersections. Select road crossings will be controlled by volunteer flaggers wearing high-visibility vests. All riders are required to follow directions from the flaggers.
Riders shall ride single file when vehicular traffic is encountered for safety reasons and to not unduly obstruct vehicular traffic.
The route includes five rest/aid stations where hydration and energy supplements will be available, and riders can seek first aid if needed. A sweep vehicle will follow the riders, as well. For safety reasons, riders are not allowed to receive nutritional/hydration assistance from unauthorized moving or stationary vehicles.
Participants are responsible for their own mechanical repairs during the event if needed. If a bicycle becomes unrideable, support vehicles will be available to transport riders and bicycles back to the finish line.
The following ride support cut-off times will be adhered to in consideration of time spent on course by volunteers and to allow volunteers to attend post-ride festivities. Riders missing these cut-off times will be allowed to complete the ride; however, they won't be guaranteed rest area support or route guidance and will be responsible for safely navigating road intersections where flaggers would otherwise be directing traffic. Support vehicles will be available to transport riders unable, or who prefer not to complete the ride.
MILESTONE
Bowen Arrow/Samuels Rest Stop
Bier Ranch (Grouse Cr. Rd.)
Northside School
Red Barn (Schweitzer Rd.)
VTT Trailhead
Finish
TIME AFTER START
2 hours
3 hours 20 minutes
4 hours 45 minutes
5 hours 45 minutes
6 hours
6 hours 30 minutes
TIME OF DAY
12:00PM
1:30 PM
2:45 PM
3:45 PM
4:00 PM
4:30 PM
REMARKS
Short/Long Course Split
Long Course
Long Course